"Have I Been A Handi-Cap?"
-Beth to Quatermain and Captain Good on their African Trek to Kuakana upon Captain Good expressing that no white women should traverse to Kukuana
Elizabeth Jeanine Curtis (later Elizabeth "Jeanine" Quatermain) also known as Beth and or the Lady
CHARACTER
Elizabeth Curtis
Gender
Female
Birth
March 17th 1836
Death
Circa before 1899
Nationality
British

Profession(s)

Companion

Allegiance(s)

Allan Quatermain (Guide) Captain John Good (Guide) Professor Curtis (Father)
With The Fire Hair was the daughter of archeologist Professor Alan Curtis and later wife of
Allan Quatermain
.
She is the deaturagonist of the first Solomon's Mines adaption and first Allan Quatermain film adaption King Solomon's Mines.
She was the first of Allan Quatermain's relationships during his global adventures and the first of his two wives of whom died before 1899 for when he was recruited for the League Of Extraordinary Gentlemen.
Elizabeth was not the wife who bore him his son and died only four months following their betrothement.
It was revealed to Quatermain that Elizabeth suffered serious heart conditions passed down by her father who also shared the identical same effects.
Elizabeth died from a heart attack circa 1899 and was buried in Kenya, Africa by husband Quatermain.
Biography
Edit
Early Life
Edit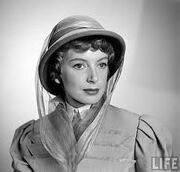 Elizabeth Curtis was born on March 17th 1836 to Professor Alan Curtis of Langeway University Colorado and Marilyn Curtis (nee' Bishop) of Buckingham Shire.
She spent nearly all of her life being raised by her father in London.
He had taken her all around on his expeditions which were align with his secret goal of discovering the lost Kukuana Village in Southern Africa and the mythical King Solomon's Mines.
Then as of 1857 she was left back in London as her father went out on a private expedition for which he never returned from. Elizabeth then began an extensive search which last three months to find a guide which could lead her to the lost Kukuana Village in Southern Africa.
On the third month she learned of a big shot hunter and occasional archeologist and trader named Allan Quatermain had been raided in Africa nearly all his life and participated in it's wars.
She then boarded a flight to Durbin where the man was rumoured to have lived and discovered him.
She from there struck up with Royal Navy Captain John Good a friend of her father's who accompanied on a flight to Durban to meet with Quatermain
Meeting with Allan Quatermain
Edit
Elizabeth along with subbordinate Captain John Good succeeds in enlisting the Great White Hunter Quatermain to guide them on a trek through the Southern Africa trails to the lost village of Kukuana.
Trek to the Deserted Village
Edit
Elizabeth then alongside Quatermain, The Royal Navy, African Pin-Pointers and Captain John Good travels